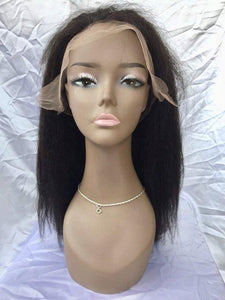 Authentic Kinky Straight Full Lace Wigs - No Stretch
Regular price $465.00 Sale
Authentic Kinky Straight Hair (Yaki) Full Lace Wig is all lace and 100% Remy Hair. This wig comes in natural hair colors from off black/darkest brown to a natural warm brown, which can be custom colored and cut to the desired length. Authentic kinky texture wig comes in 3 different textures to choose from. This full lace wig comes with a complete total lace base with no stretch that is custom, however.  stretch lace in the middle can be provided. The entire lace base is crafted to give a more realistic top and sides that can be styled in many fashionable looks. Hairline is customized to provide a more realistic appearance.

Authentic Kinky (yaki) Hair Types To Choose
1. Light Yaki Hair looks like hair that has been relaxed and flat ironed. 
2. Relaxed Yaki Hair resembles relaxed hair but is not silky or straight.
3. Kinky Yaki Hair looks like hair that has not been chemically relaxed but has been blow-dried straight.